Welcome to NCAHQ!
The North Carolina Association for Healthcare Quality was founded in 1979 to provide a professional organization that provides continuing education to those working in the quality arena. Our membership is open to individuals working in a variety of quality related roles such as:
Quality/Performance Improvement
Risk Management
Patient Safety
Patient- and Family-Centered Care
Case Management
Utilization Management
Health Information Management
Announcements and Upcoming Events
2019 Quality Professional Award Winner
Alyson Flood, BSN, RN, CPHQ
Clinical Analyst
Novant Health Presbyterian Medical Center, Charlotte, NC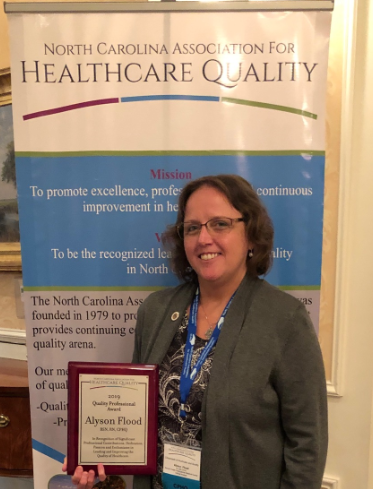 SAVE THE DATE!!!!
2020 NCAHQ CONFERENCE: MARCH 16-17, 2020
WASHINGTON DUKE INN, DURHAM, NC
AUGUST WEBINAR---SEPSIS