Welcome to NCAHQ!
The North Carolina Association for Healthcare Quality was founded in 1979 to provide a professional organization that provides continuing education to those working in the quality arena. Our membership is open to individuals working in a variety of quality related roles such as:
Quality/Performance Improvement
Risk Management
Patient Safety
Patient- and Family-Centered Care
Case Management
Utilization Management
Health Information Management

NCAHQ Members,
On behalf of all our members and the community at large, the NCAHQ Board of Directors has donated $300 to the North Carolina Disaster Relief Fund.  We hope that our small gesture will go far in making the lives of those impacted most from hurricanes Florence and Michael a little better.  If you're interested in learning more about the NC Relief Fund, please follow the link to see how our donation dollars will be used.
Thank you,
Board of Directors

Announcements and Upcoming Events
Healthcare Quality Week October 21-27, 2018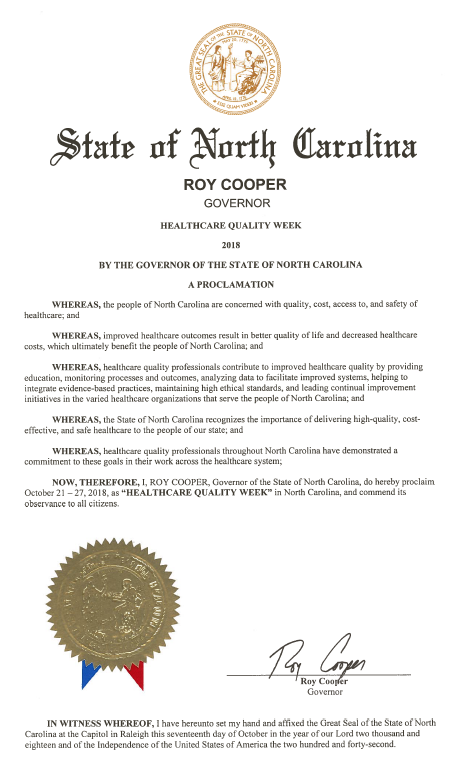 ---
Share and Celebrate Your Great Work at the 2019 NCAHQ Conference!!!!
NCAHQ 2019 Annual Education Conference
Call for Posters!
Poster abstract submissions due November 30, 2018
Crossroads of Healthcare & Quality:
Navigating and Leading Quality Improvement into the Future
The NCAHQ Annual Education Conference will be held on April 8th--9th, 2019 at the Washington Duke Inn in Durham, North Carolina.
This conference is designed to connect healthcare quality professionals from diverse organizations and settings across North Carolina. It is an excellent opportunity to exchange best practices to improve patient safety and quality as well as to increase desired outcomes of care. Poster presentations are integral to this conference and highlight professional practice across our state. Poster presenters will have the opportunity to showcase their projects during specific times the conference is in session.
The Conference Planning team invites applications in the form of abstract submission for consideration. We are interested in innovative improvements being conducted throughout your healthcare organizations. We encourage you to use this opportunity to celebrate your accomplishments and promote widespread learning from those achievements!
Abstract Submission Guidelines:
Abstracts should provide a concise summary description of the content you plan to present in 200 words or less written in a scholarly manner. (e, f, g listed below are included in the word count.)
Abstracts should include the following elements:

Title of Poster
Rationale for choosing topic and how it relates to this year's conference theme, "Crossroads of Healthcare & Quality: Navigating and Leading Quality Improvement into the Future"
Email and phone number for primary contact/author
Name of affiliated healthcare system, institution or business
Overview of project, process improvement methods, or study design
Target outcome measures or indicators
Results/Outcomes or findings from the project including lessons learned
Use of graphical representation of improvement process or topic

Abstracts should be submitted to ncahq.abstracts@gmail.com by November 30, 2018.
Abstracts submitted by November 30, 2018 will be considered for inclusion. Selections will be finalized, and candidates notified regarding acceptance in time for early bird registration. One author from each selected poster is eligible to receive one year's free membership to NCAHQ.
Upon selection of your abstract, you will receive additional information concerning poster specifications and display instructions. You should anticipate having your poster set up for the opening day of the conference.
Poster Selection Criteria:
Submissions will be selected based on 4 criteria. Reviewers will assign 0-5 points for each of the following criteria:
The topic is relevant/important to the improvement of healthcare quality
Abstract content follows stated guidelines
The topic or project features an innovative approach
The featured methods or improvement process can be replicated
We look forward to reviewing your poster abstract submission!!!!
Crossroads of Healthcare & Quality:
Navigating and Leading Quality Improvement into the Future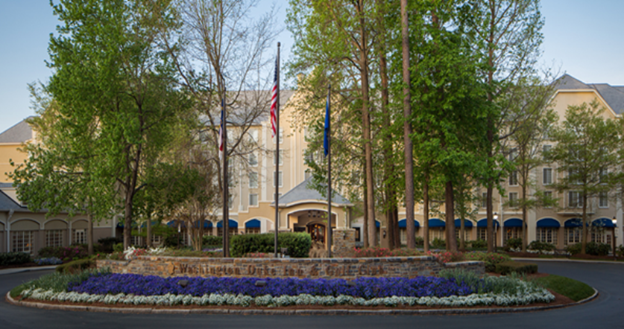 April 8-9, 2019
Washington Duke Inn, Durham, NC
**Early Bird Discount Registration will open in January 2019**
NCAHQ Board Member Transitions