Welcome to NCAHQ!
The North Carolina Association for Healthcare Quality was founded in 1979 to provide a professional organization that provides continuing education to those working in the quality arena. Our membership is open to individuals working in a variety of quality related roles such as:
Quality/Performance Improvement
Risk Management
Patient Safety
Patient- and Family-Centered Care
Case Management
Utilization Management
Health Information Management
Tri-State Partnership
With
Oregon and Arizona's Healthcare Associations
                          
Announcements and Upcoming Events
 Tri-State Partnership Free Webinar for Current NCAHQ Members
*$35 for Non-Members
Sept 25th, 2:30pm-4:00pm EDT
**Since NCAHQ Members do not have a membership number
you will be prompted to enter NCAHQ for the Association Member Number**
Deadline to Register is Sept 24th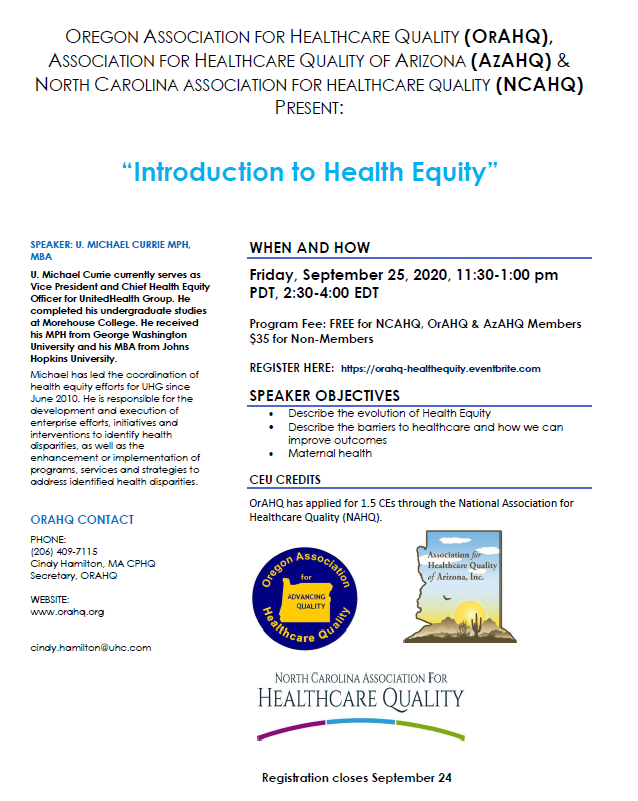 As an independent chartered chapter of the American College of Healthcare Executives, Triangle Healthcare Executives Forum is authorized to award 1.5 hours of ACHE Qualified Education credit toward advancement or recertification in the American College of Healthcare Executives. Participants in this program who wish to have it considered for ACHE Qualified Education credit should list their attendance when they apply to the American College of Healthcare Executives for advancement or recertification.
**Now is a great time to join or make sure to renew your membership**
Annual Membership-$75
Student Membership-$45
Retired/Emeritus Status-$45
Letter from the NCAHQ President 2020-2021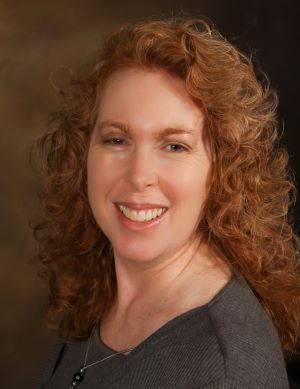 We are nine months into such an unprecedented year that will forever be  remembered for how quickly our lives changed (personally and professionally) and the establishment of the 'new normal'. Despite all the healthcare and economic challenges, we as Healthcare Quality Professionals have bonded over the obstacles and have risen to the challenge to continue our vital and necessary work, even if conducted remotely.
Needless to say, 2020 is an interesting time to come in as a new President for NCAHQ! As many of us feel the financial and economic impact of the pandemic, the NCAHQ board has focused on providing a value to our members. With that in mind, I am pleased to announce that we (NCAHQ) have entered into a Tri-State Partnership with Arizona and Oregon's HealthCare Quality Associations in an effort to offer more webinars and educational opportunities to our members. Our new NC/AZ/OR HealthCare Associations partnership will provide monthly webinars available to all three state organization members. Yes, that will be 12 webinars and at least 12 CPHQ hours in one year! We unofficially started in August with opening our NCAHQ August webinar to Oregon and Arizona members. Stay tune for information regarding the registration process for the upcoming September and October webinars conducted by Arizona and Oregon. We as a board ask for patience as we work through this new partnership and the logistical issues. As true Quality professionals, we are using this as a PDSA cycle!
As the President of the NCAHQ, I look forward to working with our Board of Directors as we work through these unprecedented times and build on the foundation set by our previous leaders. As a team, we will strive to continue providing value to our members and explore new manners in which to grow.
Thank you for allowing me the opportunity to serve you over the next year!
Ruth Pierce MBA, MHA, RN, CCRN, CPHQ
2020-2021 NCAHQ President
SAVE THE DATE: April 12-13, 2021
Mark your calendars for the 2021 NCAHQ Annual Conference April 12-13, 2021 at the Washington Duke Inn in Durham, NC. Continuing education credits will be offered during this education and networking event. Keep a look out for more details coming your way. Updates will also be posted at www.NCAHQ.org and on our social media accounts:
Linkedin: NCAHQ (www.linkedin.com/groups/4044686)
Twitter: NCAHQ1
This moment in our lives has been extrordinary time impacting us all!  Many of us have been pulled away into the healthcare arena to support our patients, families and teammates during this crisis. 
The NCAHQ Board values our members.  Each of you are the heart of our organization.  To support you with ongoing educational needs, please enjoy the following links to these exceptional resources currently offering various webinars (series, on demand), podcasts, whitepapers, and live chats. 
Thank you for all you are doing!!  Stay healthy & stay safe!!