Welcome to NCAHQ!
The North Carolina Association for Healthcare Quality was founded in 1979 to provide a professional organization that provides continuing education to those working in the quality arena. Our membership is open to individuals working in a variety of quality related roles such as:
Quality/Performance Improvement

Risk Management

Patient Safety

Patient- and Family-Centered Care

Case Management

Utilization Management

Health Information Management
Multi-State Partnership
 With
Oregon,  Arizona, Michigan, Georgia, and Florida's Healthcare Associations

                   

Announcements and Upcoming Events

Healthcare Quality Week is October 17-23, 2021 and is dedicated to celebrate the profession and raise awareness of the positive impact healthcare quality professionals have in their organizations and communities.
We are pleased to announce that Governor Cooper has signed a proclamation stating that October 17-23, 2021 as Healthcare Quality Week. He noted that the people of NC are concerned with quality, cost, access and safety of healthcare and improved outcomes result in better quality of life benefits the citizens of NC.
Gov Cooper noted that healthcare quality professionals across NC have demonstrated a commitment to these goals in their work and urge all citizens to note the observance of Healthcare Quality Week.
In recognition of this week, NAHQ is offering many free webinars, live conversations and access to NAHQ popup store during this week. Please visit their home page for more information. Link is above.
We thank all Healthcare Quality Workers for their dedication and hard work!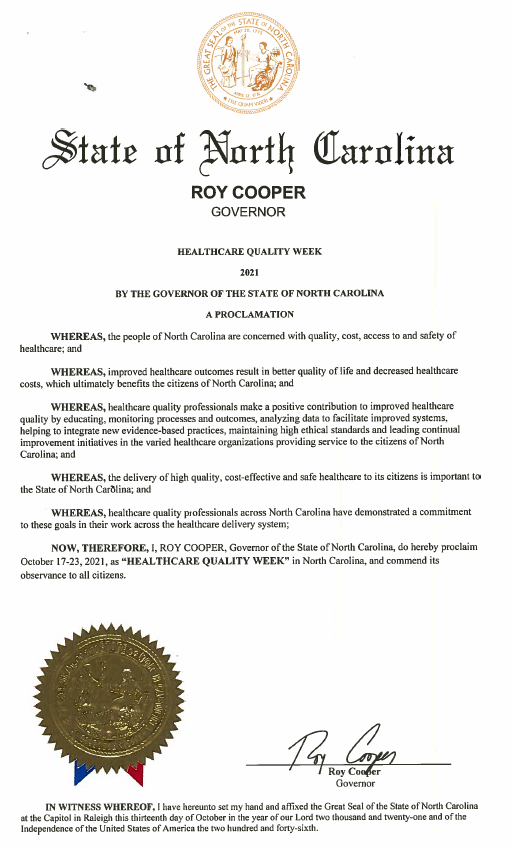 ***New job postings in the JOB BOARD***
ATTENTION
We are asking our members to please complete
the 2021 Educational Needs Survey by NOV 5th.
Let us know how we can better fulfill your educational needs. 
Educational CEU Opportunities-Webinars
NCAHQ Presents:
"Accelerating Improvement Using Benchmarking/Comparative Data"
Wednesday, Nov 10th, 2021
12:00-13:00 pm EDT
MAHQ Presents:
Friday Nov 12th, 2021
12pm ET
Code to register will be sent to each member in a email. 
If you did not receive the code please contact:
debbie.priebe@harnetthealth.org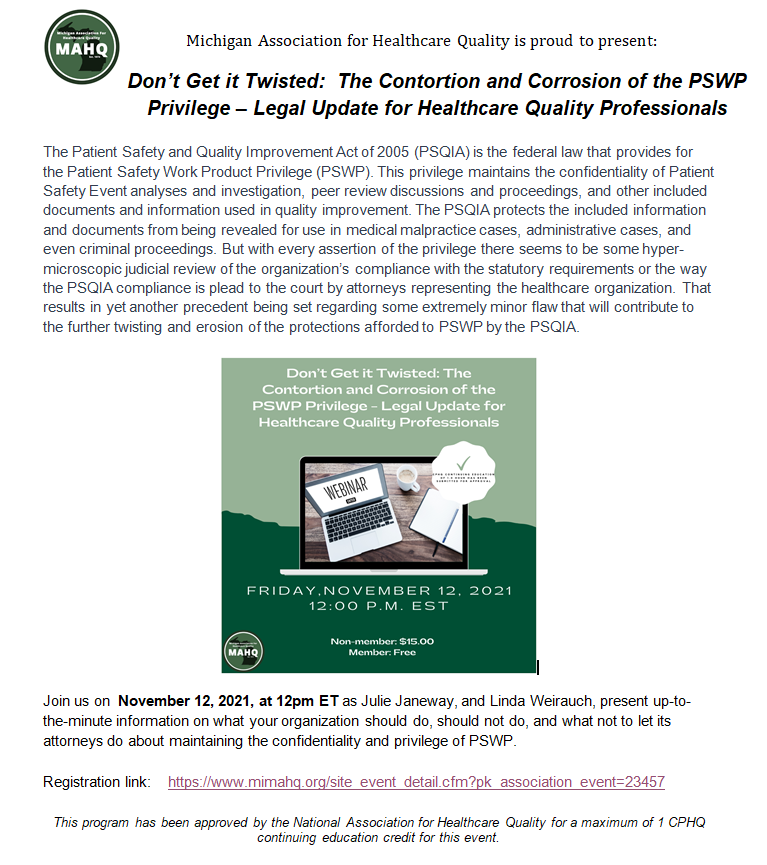 Membership Numbers
***NCAHQ members now have a membership number*** Your number will be available on your profile and your membership card. To access your printable membership card. After logging in, go to your name at the top right corner of the page and click on the drop down > select membership card > print your card.****Please use this membership number when registering for webinars from AzAHQ and OrAHQ. 
**Now is a great time to join or make sure to renew your membership**
Annual Membership-$75
Student Membership-$45
Retired/Emeritus Status-$45