Welcome to NCAHQ!
The North Carolina Association for Healthcare Quality was founded in 1979 to provide a professional organization that provides continuing education to those working in the quality arena. Our membership is open to individuals working in a variety of quality related roles such as:
Quality/Performance Improvement

Risk Management

Patient Safety

Patient- and Family-Centered Care

Case Management

Utilization Management

Health Information Management
Multi-State Partnership
 With
Oregon,  Arizona, Michigan, and Georgia's Healthcare Associations

                   
Announcements and Upcoming Events
Check out the Job Board for a new job posting!!!!!
Message from the NCAHQ Board:
Due to the current healthcare environment and continuing pandemic, we are postponing our 2021 spring conference scheduled for April. We will announce more information and updates as soon as it is more feasible to plan a future conference. We appreciate your understanding and hope everyone is staying safe in these trying times. We do plan to continue our webinars and will be posting a calendar of upcoming webinars from our multi-state partners as soon as it is available. 
CPHQ Certification Preparation Program
The North Carolina Healthcare Foundation (NCHF) has launched an innovative pilot program designed to support quality professionals in attaining the Certified Professional in Healthcare Quality (CPHQ) designation. The CPHQ Certification Preparation Program or CCPP, is a 9-month program that includes 1:1 and group coaching, targeted workshops, access to NAHQ online CPHQ study materials and IHI Open School Courses. The CCPP is based on the NAHQ Healthcare Quality Competency Framework.  Upon completion of the preparation program, participants will sit for the CPHQ exam in May 2021. The program is conducted under the umbrella of The Quality Center Patient Safety Organization (PSO). This unique approach provides protection to all materials that are shared and allows for open discussion about events and other confidential topics in a protected setting as well as allows participants to learn more about the purposes and functions of PSOs as part of the program.
The pilot cohort is comprised of 11 quality professionals from critical access and small rural hospitals across North Carolina. The goal of CCPP is that every participating facility will have at least one CPHQ-certified quality professional prepared to train others and execute a value-driven quality program. NCHF will report program outcomes after analysis of the pilot cohort is complete.
                                                                                                                            
                        Shakeerah McCoy, MSN, RN, PCCN                Joan Wynn, PhD, RN, CPHQ
                                       Director, Rural Health Innovation                                                     Lead Program Faculty
                                           NC Healthcare Foundation
Educational CEU Opportunities-Webinars
March Webinar
March 2, 2021
Tickets/Registration is open
Free to NCAHQ members and multi state partner members but registration is required to receive the link for registration 
$15 for non-members
Deadline to register is Monday, March 1st at 1700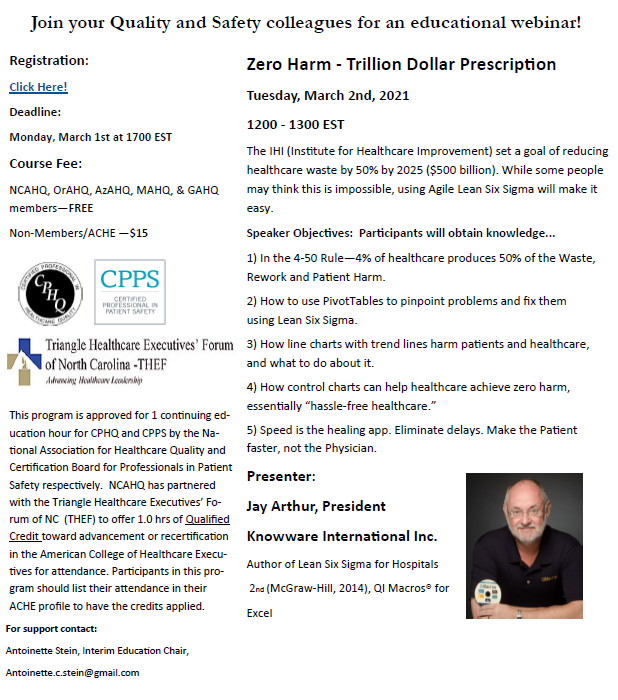 March 12, 2021
2:00 to 3:00 pm EST
Lets join our AzAHQ colleagues for an educational webinar
Click on "Education" then click on the link under
"Upcoming Events" to begin the registration
(How to obtain membership # is below)
Membership Numbers
***NCAHQ members now have a membership number*** Your number will be available on your profile and your membership card. To access your printable membership card. After logging in, go to your name at the top right corner of the page and click on the drop down > select membership card > print your card.****Please use this membership number when registering for webinars from AzAHQ and OrAHQ. 
**Now is a great time to join or make sure to renew your membership**
Annual Membership-$75
Student Membership-$45
Retired/Emeritus Status-$45