Welcome to NCAHQ!
The North Carolina Association for Healthcare Quality was founded in 1979 to provide a professional organization that provides continuing education to those working in the quality arena. Our membership is open to individuals working in a variety of quality related roles such as:
Quality/Performance Improvement

Risk Management

Patient Safety

Patient- and Family-Centered Care

Case Management

Utilization Management

Health Information Management
Multi-State Partnership
 

With 
Oregon
,  Arizona, Michigan, Georgia, Florida, New England, and Ohio
Healthcare Associations to offer multiple FREE continuing educational opportunities to our members.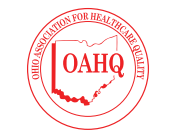 Announcements and Upcoming Events
Membership Numbers
***NCAHQ members now have a membership number*** Your number will be available on your profile and your membership card. To access your printable membership card. After logging in, go to your name at the top right corner of the page and click on the drop down > select membership card > print your card.****This membership # may be required for registering for other state's collaborative webinars*****
There are multiple FREE CE educational webinars for NCAHQ members!!!
**Now is a great time to join or make sure to renew your membership**
Annual Membership-$75
Student Membership-$45
Retired/Emeritus Status-$45
Call For Board Nominations! 
Submission Deadline March 1st , 2023  
Nomination Form for Board PositionsJob Description of Board Positions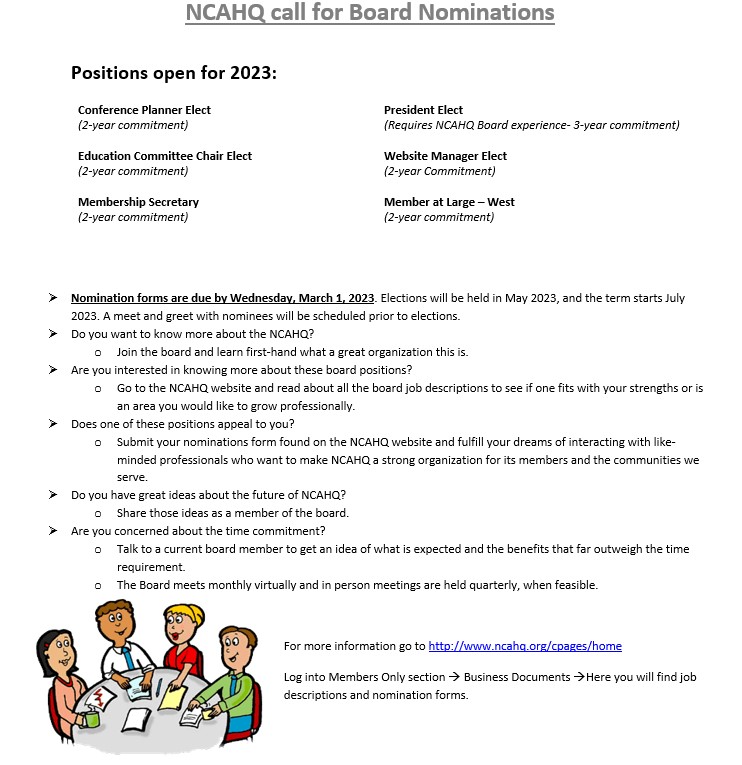 ---
UPCOMING CONFERENCE 
Mark your calendars!
In 2023, NCAHQ will be reconvening for our annual conference.
The conference will be held on

May 8, 2023

,
at the JB Duke Inn and Conference Center on the campus of 

Duke University.
We will be holding the conference in a new venue after a few years of hiatus due to the pandemic , and we will be returning with a renewed excitement!
The 2023 conference theme will be: Innovate, Influence, Improve or Ignite…What's your Superpower.
We have several wonderful speakers attending the conference in 2023 year and if you cannot make the conference in-person at our beautiful new location, you can plan to attend in a virtual setting as well.
More to come on the conference but for now, we hope you will be able to join us!
If interested in Sponsorship information:
 Call For Poster Abstracts! 
Submission Deadline February 14th, 2023  
ATTENTION!!!
Do you know someone who should be recognized for their significant contribution in a healthcare organization and/or to the quality profession?
NCAHQ will be taking nominations for the 2023 NCAHQ Quality Professional Award.
The nominee must be a member of NCAHQ.
Deadline for Nominations is February 17, 2023 at 11:59 pm.
CLICK HERE FOR THE NOMINATION FORM
Email the completed nomination form to

NCAHQ.awards@gmail.com 
Please enter "NCAHQ Award nomination" in the subject line.
Look at the Scoring Grid below to see how the winner will be selected. 
CLICK HERE TO VIEW SCORING GRID
Winner will be announced at the May 8, 2023 NCAHQ Conference.
Educational CEU Opportunities
Upcoming Webinars
February Webinars
NCAHQ Presents
Healthcare Data Analytics 
Wednesday, February 15th, 2023
12:00 - 01:00 pm EDT