Welcome to NCAHQ!
The North Carolina Association for Healthcare Quality was founded in 1979 to provide a professional organization that provides continuing education to those working in the quality arena. Our membership is open to individuals working in a variety of quality related roles such as:
Quality/Performance Improvement
Risk Management
Patient Safety
Patient- and Family-Centered Care
Case Management
Utilization Management
Health Information Management
Announcements and Upcoming Events
2020 NCAHQ CONFERENCE: MARCH 16-17, 2020
"20/20 Vision for Healthcare Quality Innovation: Envisioning Healthier People and Outcomes for Tomorrow"
WASHINGTON DUKE INN, DURHAM, NC
NCAHQ 2020 Annual Education Conference
Call for Posters!!!
Poster Abstract Submissions Due

November 1, 2019
NCAHQ Eastern NC Lunch and Learn
One of our goals for NCAHQ is to reach out to non-members and those members who may not be able to attend the NCAHQ Annual Conference. If you work or reside in the eastern part of our state, please come and join NCAHQ at our first Lunch and Learn.  
Will be held Wednesday, Oct 30th, 2019 from 11:30 am to 12:30 pm EST at CarolinaEast Medical Center in New Bern, NC.
Come hear some great presenters from Vidant Health and network with other quality/patient safety professionals.
There is no charge for this event.
SPACE IS LIMITED TO THE FIRST 45 REGISTRANTS.
Please RSVP/Register by sending an email to
Please include name, place of employment, and contact email so location information and directions, parking info, etc. can be sent to you prior to the event
Deadline to Register is Friday October 25th at 5 pm….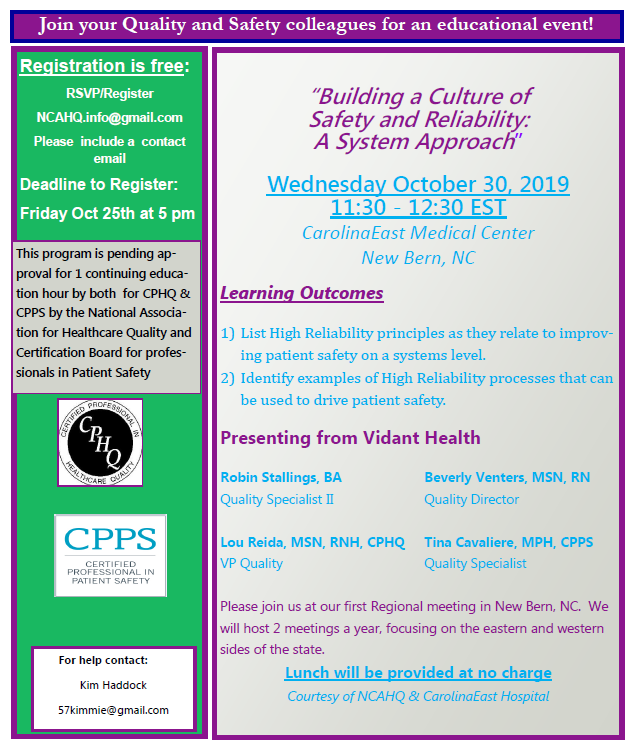 Please feel free to share this information with your colleagues.
This event is open to members and non-members.
November Webinar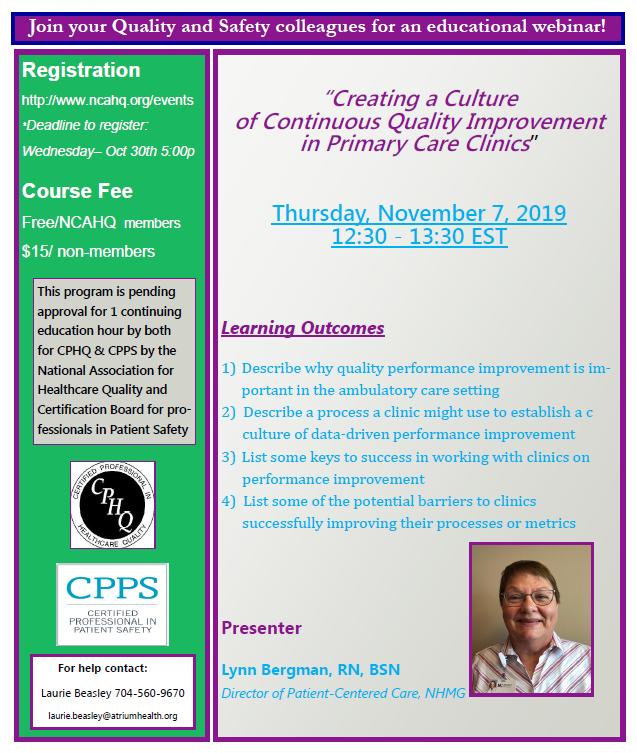 Registration Deadline: Wednesday Oct 30th at 5pm
Webinar is Free for members but members still need to register. 
Networking and Educational Event
"Improving Performance by Design"
The Triangle Healthcare Executives' Forum of North Carolina (THEF) chapter of the American College of Healthcare Executives (ACHE), in partnership with NCAHQ, cordially invites you to a networking and education event on the topic of 'Improving Performance by Design'. The evening includes two panel discussions and dinner with beer/wine.
The American College of Healthcare Executives has awarded 3 ACHE Face-to-Face Education Credits to this program. Face-to-Face Credits are reported to ACHE by THEF on your behalf following the program. NAHQ has approved this event for 3.0 CPHQ credits. 
NCAHQ members - who are not ACHE members - may register at the ACHE member rate by purchasing a Non-ACHE Member ticket and applying coupon code NCAHQ2019.  
Click on the link below for more details:
Improving Performance by Design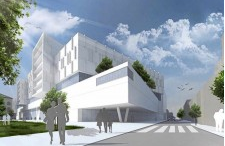 October 23, 2019
4:00 PM - 8:30 PM
 Add to Calendar
WakeMed Raleigh – The Andrews Conference Center
3000 New Bern Avenue
Raleigh, NC 27610
 Directions
REGISTRATIONS will be accepted through Oct 23rd.
2019 Quality Professional Award Winner
Alyson Flood, BSN, RN, CPHQ
Clinical Analyst
Novant Health Presbyterian Medical Center, Charlotte, NC