Welcome to NCAHQ!
The North Carolina Association for Healthcare Quality was founded in 1979 to provide a professional organization that provides continuing education to those working in the quality arena. Our membership is open to individuals working in a variety of quality related roles such as:
Quality/Performance Improvement
Risk Management
Patient Safety
Patient- and Family-Centered Care
Case Management
Utilization Management
Health Information Management
    Multi-State Partnership
 With
Oregon,  Arizona, and Michigan's Healthcare Associations
                    
Announcements and Upcoming Events
For more information about Healthcare Quality Week go to www.NAHQ.org
Thank you to all the quality/patient safety professionals that serve our patients and communities of NC.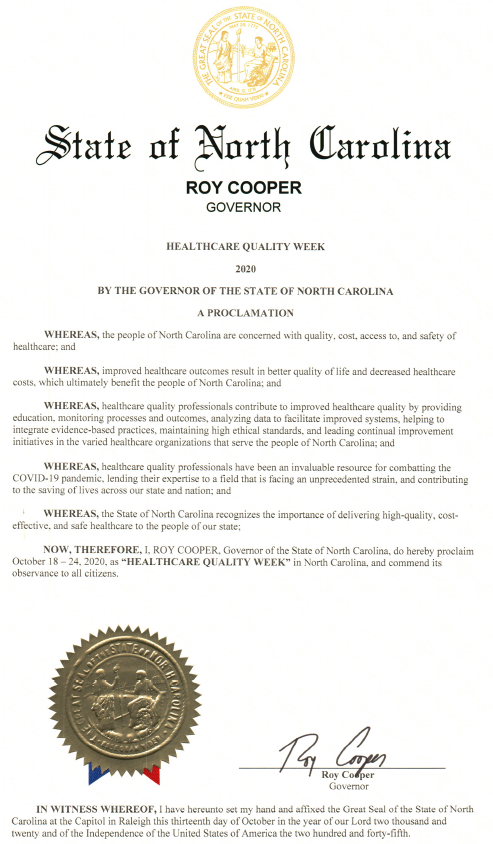 Membership Numbers
***NCAHQ members now have a membership number*** Your number will be available on your profile and your membership card. To access your printable membership card. After logging in, go to your name at the top right corner of the page and click on the drop down > select membership card > print your card.****Please use this membership number when registering for webinars from AzAHQ and OrAHQ. 
Check out the new job posting from NCHA!
**Now is a great time to join or make sure to renew your membership**
Annual Membership-$75
Student Membership-$45
Retired/Emeritus Status-$45
Educational CEU Opportunities-Webinars
Registration is now open for the October 30, 2020 webinar presented by the Association for Healthcare Quality of Arizona (AzAHQ)
"Bending Silos: A Refreshing Approach to Team-Based Communication"
NOVEMBER WEBINAR
FREE FOR MEMBERS OF NCAHQ, OrAHQ, and AzAHQ but registration is required. 
$15 for Non-Members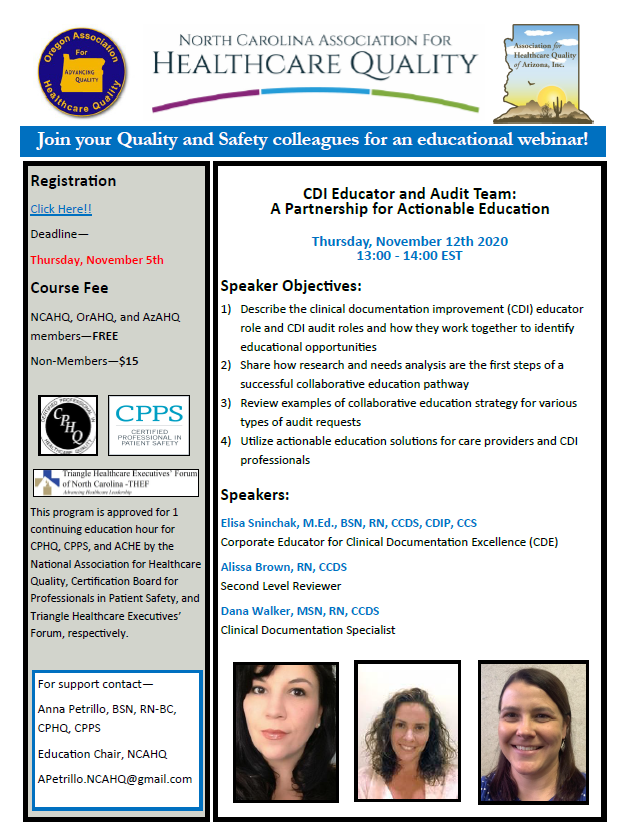 As an independent chartered chapter of the American College of Healthcare Executives, Triangle Healthcare Executives Forum is authorized to award 1.0 hours of ACHE Qualified Education credit toward advancement or recertification in the American College of Healthcare Executives. Participants in this program who wish to have it considered for ACHE Qualified Education credit should list their attendance when they apply to the American College of Healthcare Executives for advancement or recertification.

SAVE THE DATE: April 12-13, 2021
Mark your calendars for the 2021 NCAHQ Annual Conference April 12-13, 2021 at the Washington Duke Inn in Durham, NC. Continuing education credits will be offered during this education and networking event. Keep a look out for more details coming your way. Updates will also be posted at www.NCAHQ.org and on our social media accounts:
Linkedin: NCAHQ (www.linkedin.com/groups/4044686)
Twitter: NCAHQ1