NCAHQ has been recognized in the past by NAHQ for excellence in education. To this day, NCAHQ continues its commitment to the values of lifelong learning and recognition of organizational and personal achievement in the field of quality.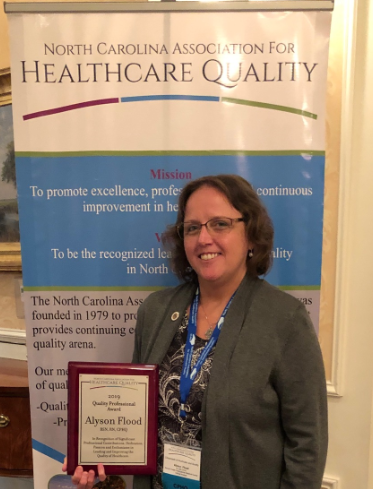 Recipient of the 2019 NCAHQ Quality Professional Award
Alyson Flood, BSN, RN, CPHQ
Alyson Flood, BSN, RN, CPHQ is a Clinical Analyst at Novant Health Presbyterian Medical Center in Charlotte, NC where she drives multiple projects and initiatives founded on evidence-based guidelines. She co-leads the Cath PCI best practice team to help prevent adverse cardiovascular events such as acute kidney injury, bleeding events, and mortality. She also focuses her efforts on decreasing readmissions and works collaboratively with the team members to engage patients in the cardiac rehab program. She is a current member of the NCAHQ education committee, Sigma Theta Tau, and the Society of Vascular Nursing. She has worked collaboratively in the publication of various Clinical Practice Guidelines in national journals and a full-page newsletter for the Society of Thoracic Surgery on the topic of "A Data Managers Perspective." She has also had national poster presentations at NAHQ, ISC International Stroke Conference, the Society of Vascular Nursing 27th National Convention, and the Institute for Healthcare Improvement. She is a NAHQ member and obtained CPHQ credentialing in 2011.
Past Recipients of the NCAHQ Quality Professional Award:
2018: Carol Benge, RN, BS, CPHQ - Quality and Organizational Excellence leader for the Nursing Quality and Research Department at the University of North Carolina Hospitals in Chapel Hill, NC.
2017 Dr. Joan Wynn - Chief Quality and Patient Safety Officer with Vidant Health. 
2016  Amy Bell, MSN, RNC-OB, NEA-BC, CPHQ - Quality Outcomes Specialist at Carolinas Healthcare System 
HQF Grant Programs
The Healthcare Quality Foundation (HQF) manages a comprehensive grant program that supports individual education. Donations raised throughout the year from individuals, states, and companies fund the HQF grant program.
Each May, the HQF team awards up to 15 individual grants to deserving applicants. Those grants include funds to attend the NAHQ Annual Educational Conference and other NAHQ educational programs or to pay for CPHQ certification examination or review costs.
Learn more about these grants at NAHQ.