Welcome to NCAHQ!
The North Carolina Association for Healthcare Quality was founded in 1979 as a professional organization to provide continuing education to those working in the quality arena. Our membership is open to individuals working in a variety of quality related roles such as:
Quality/Performance Improvement

Risk Management 

Patient Safety

Patient- and Family-Centered Care

Case Management

Utilization Management

Health Information Management

 
Multi-State Partnership with Healthcare Associations  
Oregon

, Arizona, Michigan, Georgia, Florida, New England, and Ohio 
Offering multiple FREE continuing education to our members!
Announcements and Upcoming Events
---
Membership Numbers
***NCAHQ members now have a membership number*** Your number will be available on your profile and your membership card. To access your printable membership card. After logging in, go to your name at the top right corner of the page and click on the drop down > select membership card > print your card.****This membership # may be required for registering for other state's collaborative webinars*****
There are multiple FREE CE educational webinars for NCAHQ members!!!
**Now is a great time to join or make sure to renew your membership**
Annual Membership-$75
Student Membership-$45
Retired/Emeritus Status-$45
---
SAVE THE DATE!
2024 NCAHQ Annual Conference April 29th, at the Sheraton Greensboro at Four Seasons,  Greensboro, NC
 The theme of the 2024 conference: "Baking in Sustainability" 
Participant registration information to come soon....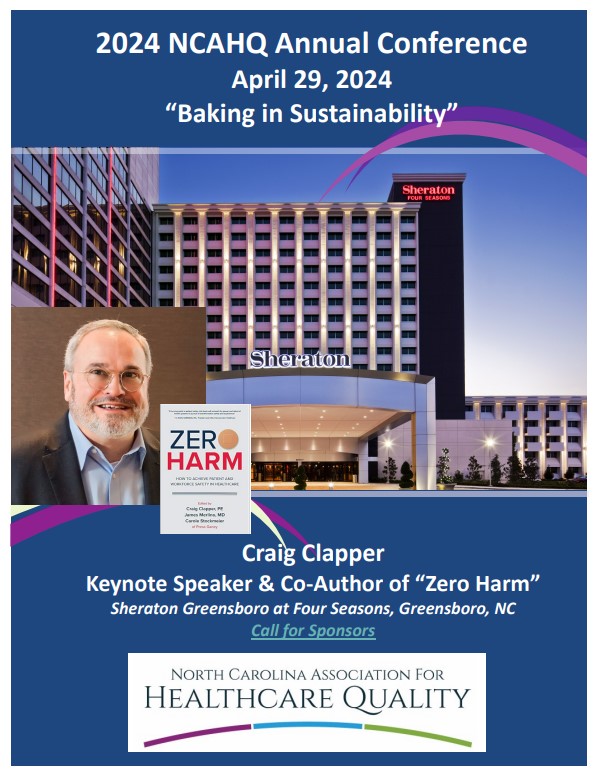 Looking forward to Collaboration with our 2024 Sponsors!!! 
---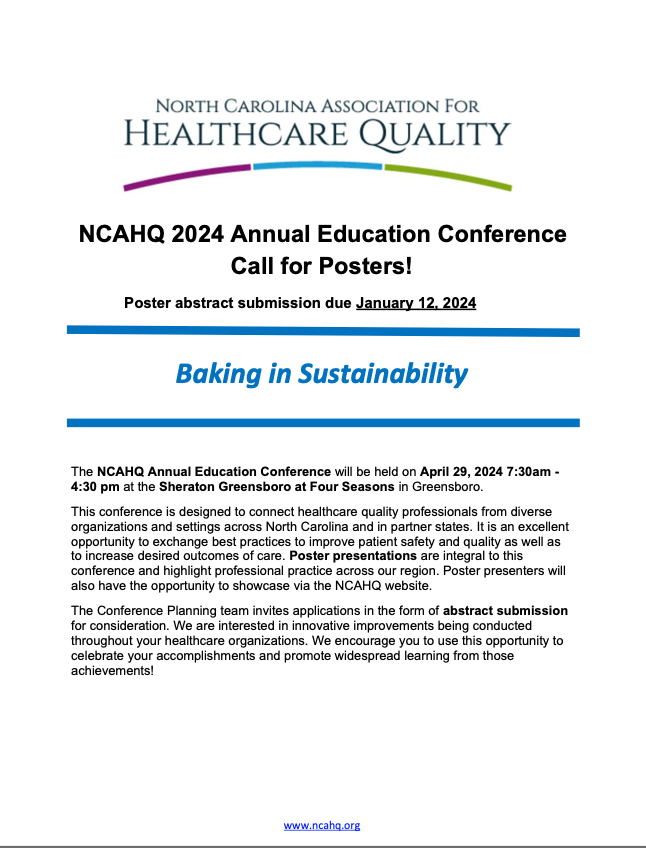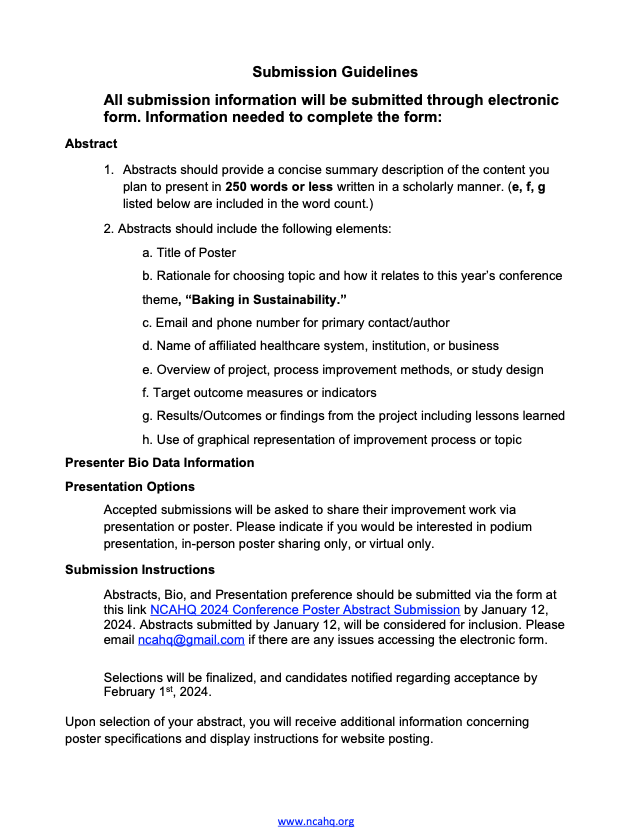 Call for Posters:
 Come join us at the NCAHQ 2024 Annual Education Conference by celebrating your accomplishments and promoting widespread learning from those achievements! We are interested in innovative improvements being conducted throughout your healthcare organizations and will be focusing on our theme of "Baking in Sustainability" at this year's event. We invite applications in the form of abstract submission for consideration. 
Poster presentations are a critical opportunity to promote improved patient outcomes from diverse teams across our footprint. Please consider submitting an abstract to highlight your team's impact on healthcare quality. 
Abstracts are due by January 12, 2024 and should be submitted via electronic form through this link:
 NCAHQ 2024 Conference Poster Abstract Submission
---
Educational CEU Opportunities
Upcoming Events & Webinars
---
OrAHQ Presents
Overview: CPHQ Exam Process
Friday,  December 15th, 2023
3:00pm - 4:30pm EST
---
AzAHQ Presents
Optimizing Maternal and Infant Care
through Arizona AIM Collaborative 
Monday, January 5th, 2024
2:00pm - 3:00pm EST 
---
AzAHQ Presents
Building a CMS Compliant Health Equity Program
Monday, January 15th, 2024
2:00pm - 3:00pm EST