Welcome to NCAHQ!
The North Carolina Association for Healthcare Quality was founded in 1979 to provide a professional organization that provides continuing education to those working in the quality arena. Our membership is open to individuals working in a variety of quality related roles such as:
Quality/Performance Improvement

Risk Management

Patient Safety

Patient- and Family-Centered Care

Case Management

Utilization Management

Health Information Management
Multi-State Partnership
 

With 
Oregon
,  Arizona, Michigan, Georgia, Florida, New England, and Ohio
Healthcare Associations to offer multiple FREE continuing educational opportunities to our members.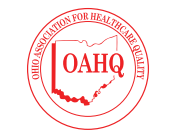 Announcements and Upcoming Events
Membership Numbers
***NCAHQ members now have a membership number*** Your number will be available on your profile and your membership card. To access your printable membership card. After logging in, go to your name at the top right corner of the page and click on the drop down > select membership card > print your card.****This membership # may be required for registering for other state's collaborative webinars*****
There are multiple FREE CE educational webinars for NCAHQ members!!!
**Now is a great time to join or make sure to renew your membership**
Annual Membership-$75
Student Membership-$45
Retired/Emeritus Status-$45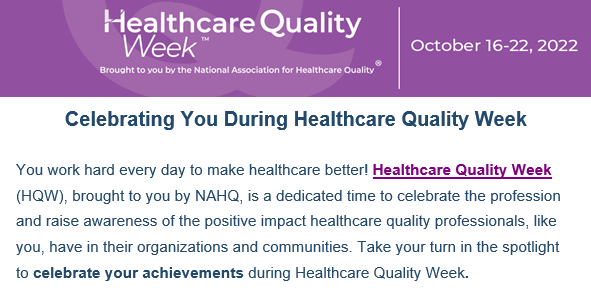 Click HERE for more information about Healthcare Quality Week at nahq.org
Time to Celebrate!!! 
NCAHQ would like to extend a heartfelt THANK YOU to all our members and Quality Colleagues throughout the state of NC. 
Mark your calendars!
In 2023, NCAHQ will be reconvening for our annual conference.
The conference will be held on

May 8, 2023

,
at the JB Duke Inn and Conference Center on the campus of 

Duke University.
We will be holding the conference in a new venue after a few years of hiatus due to the pandemic , and we will be returning with a renewed excitement!
The 2023 conference theme will be: Innovate, Influence, Improve or Ignite…What's your Superpower.
We have several wonderful speakers attending the conference in 2023 year and if you cannot make the conference in-person at our beautiful new location, you can plan to attend in a virtual setting as well.
More to come on the conference but for now, we hope you will be able to join us!
If interested in Sponsorship information:
Educational CEU Opportunities
CPHQ Review Course
OrAHQ Presents
Nov 17, 18, 19, 2022
12:00 pm to 4:30 pm EST 
$175 if registered before Oct 15th for NCAHQ members
FOR MORE INFORMATION AND TO REGISTER CLICK HERE
Upcoming Webinars
OCTOBER
FAHQ Presents: 
Oct 11, 2022 (postponed from Sept 29)
12:00pm to 1:00pm EDT
"Staying afloat in the wake of the Covid-19 Pandemic: Emotional Intelligence is a critical life preserver"
Click HERE for more INFORMATION and to REGISTER
FAHQ Presents:
October 20, 2022
12:00 pm to 1:00 pm EDT
"Moving from Tactical to Purpose: Establishing a Learning Organization"
Click HERE for more INFORMATION and to REGISTER
OrAHQ Presents: 
October 28, 2022 
3:00 pm  to 4:00 pm EDT 
"Thriving: Tools for the Way We Work Now"
Click HERE for more INFORMATION and to REGISTER
NOVEMBER
NCAHQ Presents: 
November 15th , 2022 
12:00 pm to 1:00 pm EDT 
"Using Lean to Promote Effectiveness, Efficiency, and Equity in Healthcare Delivery"
Click HERE for more INFORMATION and to REGISTER
AzAHQ Presents: 
November 18th , 2022 
11:00 am to 12:00 pm EDT 
"Nursing Transition to Practice: Innovative Partnership to Promote Quality & Safety"
Click HERE for more INFORMATION and to REGISTER
DECEMBER
NEAHQ Presents: 
December 19th , 2022 
11:00 am to 12:00 pm EDT 
" Human Factors and Patient Safety"
Click HERE for more INFORMATION and to REGISTER